Why Do Singers Choose Badiene?
It takes someone special to be a great teacher as well as a star-quality performer. Badiene's rare ability to share her passion for singing, as well as her expertise as a vocal coach, transforms her students' lives.
 Badiene immediately identifies your problems and needs providing solutions that work! She teaches a method used by more than 300 major artists including recording stars, movie stars, Broadway stars and concert stars. Together they have amassed more than 120 Grammy Awards, 7 Toni Awards, and Metropolitan Principle Contracts.
With all of the voice teachers around, why do entertainment industry professionals recommend Badiene Magaziner?
Badiene was named Favorite Vocal Coach 
in Backstage Magazine's 
Best of New York!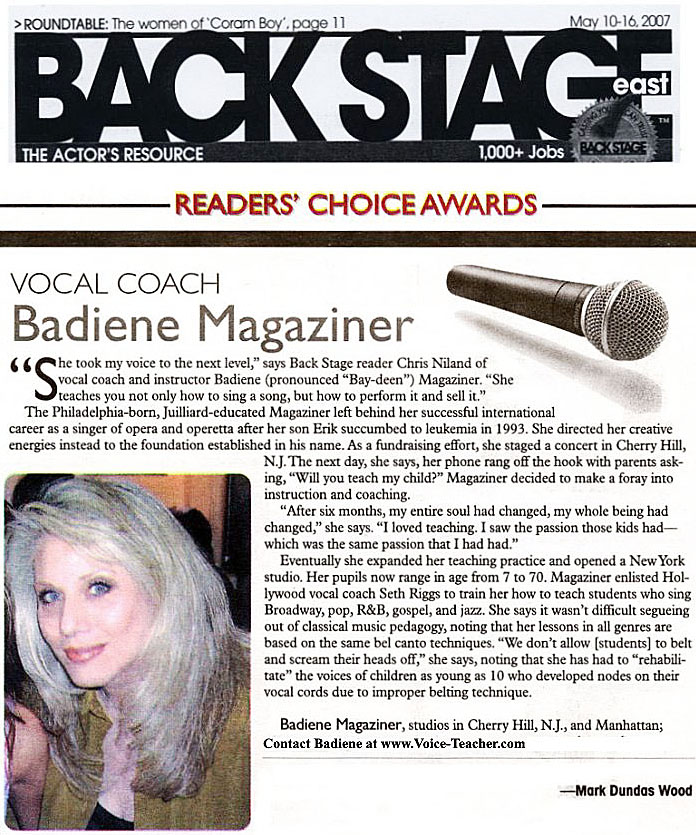 Badiene teaches a successful technique for all styles of music
On Faculty at The Juilliard School and the Institute for Young Dramatic Voices
CERTIFIED LICENSED Voice Teachers and Coaches at varying affordable price points
Master's Degree from the prestigious Juilliard School in NYC
Technique used by over 110 Grammy Award Winners, Metropolitan Opera
and Broadway stars
Years of experience as a professional performer
Years of experience as a voice teacher
Years of study of spiritual disciplines
Extensive knowledge of repertoire
Expertise in solving vocal issues i.e. pitch, breath support, and vocal damage
Expertise with On-Line Lessons
Expertise in working with performers of all levels from young beginners
to experienced pros
Successful students on Broadway, Platinum Records, Television, Opera
Successful students in operatic roles and conservatories
Success preparing performers for auditions
Manhattan Showcase Project – Series of Performance Classes
Students accepted to leading schools including The Juilliard School, Manhattan School of Music, NYU, University of Michigan, MDA (American Musical & Dramatic Academy), The New School, The Mannes School of Music