Erik's Wish
What is Erik's Wish?
Badiene's only child, Erik Emanuel Boelkow was diagnosed with Acute Myelogenous Leukemia. Erik's best chance for survival was a bone marrow transplant with marrow from a healthy donor. No donor was found and Erik died.
As a tribute to his life, Badiene created a show called "Erik's Wish." The fundraiser debuted to a standing-room-only crowd in Cherry hill, NJ. The poignant but fun-filled evening weaves through the fabric of her life, culminating with her struggle with tragedy, and her subsequent triumph through spiritual renewal. Erik's Wish was established to memorialize her son and to raise funds for the International Leukemia Organization, a nonprofit organization founded by Badiene and Erik to test potential marrow donors, and to fund adjunctive research projects.
For 6 years, Badiene produced the Erik's Wish Annual Benefit Concert in New Jersey. She developed and conducted the Erik's Wish Choir, a performance choir that performed with her in the show at many charity events.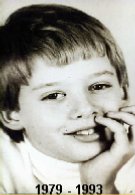 Why Erik's Wish?
When asked by the wish foundations for his wish, Erik said, "My wish is that all the rock stars come together and sing a song to make the world aware of the need for donors and to find a cure. "No kid should die waiting for a donor."
The Wish Foundations told Erik that they could not do that particular wish, and asked him if he preferred to go to Disneyland or to Europe. "No, thank you," Erik replied. "I've lived a good 12 years. I've traveled all over the world and have all the materialistic things I need. We have to help the little kids who have lived their whole lives in the hospital. They've never experienced life. We have to find them all donors, and we have to make sure that there's another cure besides this torture of chemo and radiation."
The wish foundations told him that this wish was impossible. So, Badiene set out to grant his wish. Her friends, songwriters Denise Rich, David Bartkey and Michael O'Hara wrote a song for Erik called, "A Second Chance." Erik wanted the rock stars to perform this song, with the proceeds going to help those with leukemia. But before anything could be done with it, Erik relapsed. More treatments and prolonged hospital stays were necessary. The leukemia came back, and Erik died.
It is now Badiene's wish to resurrect Erik's Wish in the future and raise funds for leukemia research.
---