Biography
Badiene Magaziner is a highly respected international voice teacher with studios in the NYC and the greater NJ/Philadelphia area. Although Badiene's career was in opera and Broadway, she has become one of the foremost experts in teaching R&B, Pop, Rock, Jazz and Gospel, as well as opera and Musical Theater. Her students, both children and adults, have appeared in many Broadway shows including PRISCILLA, QUEEN OF THE DESERT, MARY POPPINS, NINE, MISS SAIGON, LION KING, BILLY ELLIOT, THE LITTLE MERMAID, SHREK THE MUSICAL, 13 THE MUSICAL, THE BOY FROM OZ, BEAUTY AND THE BEAST, ELF, BYE, BYE BIRDIE, THE ADDAMS FAMILY, A LITTLE NIGHT MUSIC, THE PRODUCERS, RENT, OKLAHOMA, PIPPIN, BIG FISH and FAR FORM HEAVEN.
Badiene's students have also been featured in the National Touring Companies of ANNIE, OLIVER, DORA THE EXPLORER, and MAME, as well as in BROADWAY KIDS, AMERICAN GIRL THEATER, and in various DISNEY venues. Her Pop, Rock and R&B students have received PLATINUM RECORDS and have appeared on AMERICA'S GOT TALENT, AMERICAN IDOL, STAR SEARCH,  and AMERICA'S MOST TALENTED KID.
Badiene teaches SPEECH LEVEL SINGING, a vocal technique that has garnered over 110 Grammy Award and has been used by stars including Michael Jackson, Josh Groban, and Natalie Cole. She was personally invited by famed Hollywood vocal coach, Seth Riggs, to become his first certified Seth Riggs' Speech Level Singing associate on the east coast.
Badiene has successfully coached singers, dancers, and actors in every aspect of musical performance and has shared her expertise at the Speech Level Singing Institute in Los Angeles. In addition to her studio teaching, Ms. Magaziner conducts International Voice Lessons and Master Classes in Vocal Technique via on-line video conferencing. She also conducts Workshops on "Selling a Song," and is the presenter of the MANHATTAN SHOWCASE PROJECT, a series of performance classes geared towards helping performers develop their skills.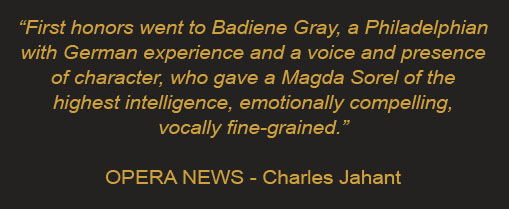 Badiene's young students have won leading roles in their school and community productions, as well as scholarships to major programs and institutions including New York University, Manhattan School of Music, Carnegie Mellon University, The Mannes School of Music, Eastman School of Music, The New School, Berklee School of Music, Indiana University's Jacob's School of Music, Graz International Opera Program, The Hart School of Music, American Academy of Dramatic Arts and Metropolitan Opera coach, Joan Dornemann's International Vocal Arts Institute.
Badiene holds a Master's Degree of Music in Voice from the prestigious Juilliard School of Music in New York City, where she was awarded a full scholarship, studied voice with Beverly Peck Johnson and starred in LA BOHEME and DON PASQUALE at the American Opera Center, currently The Juilliard Opera Theater. Upon graduation, Badiene was invited to star in numerous operas and operettas throughout Europe. She appeared as Fiordiligi in COSI FAN TUTTE, Donna Elvira in DON GIOVANNI with Benjamin Luxon and Nicolai Gedda, Eurydice in ORPHEUS AND EURYDICE, and alternately as Mimi and Musetta in LA BOHEME. Together with Jose Carreras and Katia Ricciarelli, Badiene sang Musetta in a gala performance of LA BOHEME.
In a string of highly acclaimed Washington Opera performances at the Kennedy Center for the Performing Arts, Badiene starred as Magda Sorel in GianCarlo Menotti's THE CONSUL, having been chosen for the role by the composer.
As a finalist in the Pavarotti International Voice Competition, she was invited by the Philadelphia Opera Company to perform in several operas. Badiene also sang the title role of TOSCA with the New Orleans Opera, Connecticut Opera, Virginia Opera, Boston Opera, and the Buffalo Opera.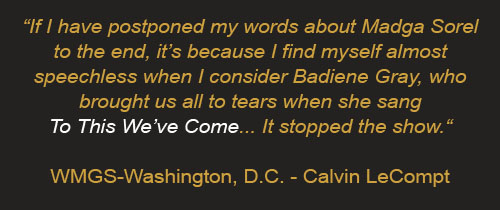 From 1997-2003, Badiene produced the "Erik's Wish Benefit Concert" in New Jersey. She developed and conducted the Erik's Wish Choir, a performance choir that performed with her in the show at many charity events. Badiene has been on the Jury of several vocal competitions in the United States and Russia.
Along with other luminaries such as Kevin Eubanks of "The Tonight Show" and "Star Wars" director, Irv Kershner, she was honored by The Settlement Music School in Philadelphia. Badiene was invited by renowned Metropolitan Opera mezzo-soprano, Dolora Zajick to contribute her expertise at her Institute for Young Dramatic Voices. Badiene had the honor performing at many charity events, honoring politicians and dignitaries including President Clinton, Prime Minister John Majors, and Prime Minister Ehud Barak, and TV personality Larry King.